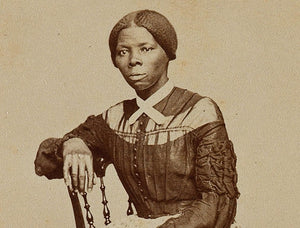 The Life of Harriet Tubman
As the subject of a recent movie and with talk of placing her image on the twenty-dollar bill, Harriet Tubman is perhaps more in the news today than at any point since her death. With so much attention focused on Tubman, let's look at the life of this remarkable woman. Most people know her as the "conductor" of the Underground Railroad, but there is much more to Tubman's life than her experiences helping escaped slaves.
Born in about 1820 as Araminta "Minty" Ross, she would later take the name Harriet in honor of her mother. As an enslaved person, Harriet experienced abuse at an early age, but a particularly horrific event at the age of 12 left her with permanent injuries. Seeing an overseer about to throw a metal weight at a fugitive slave, Harriet attempted to intervene. The weight struck her in the head, leaving her with narcolepsy and crippling headaches for the rest of her life. As a result of the injury, she also experienced hallucinations which she believed were religious visions.
In 1844, Harriet married a free man named John Tubman and took his name. The marriage was not a happy one, and in 1849, alarmed by the knowledge that two of her brothers, Ben and Henry, were about to be sold, she and her brothers planned an escape. All three managed to get away from the Maryland plantation where they were enslaved, but Harriet's brothers changed their minds and returned. Harriet kept going, eventually making her way to Pennsylvania.
There is a misconception that Tubman started the Underground Railroad, but the network for helping enslaved people escape to freedom was established in the late 1700s. Perhaps because of her strong religious convictions, Harriet, who was living in Philadelphia, felt compelled to return and help her relatives escape.
In 1850, the Fugitive Slave Act was enacted. Passage of the act meant that any African American person in the North could be captured, whether they were a fugitive or a freed person (or even, as in the case of Solomon Northup, free-born). The act made Tubman's work infinitely more dangerous, and as a result of the legislation, she began ferrying her charges to Canada, where they were safer. It is not known with certainty how many enslaved people Tubman helped to escape, but it's believed to have been at least 70. She was so successful in her work that slave owners offered a $40,000 bounty for her capture, an incredible sum of money in the mid-1800s.
Tubman's heroism didn't stop with helping runaway slaves. During the Civil War, she worked as a nurse, treating both soldiers and fugitive slaves. She also worked as a scout and a spy for the Union army, using her intimate knowledge of Southern roads and byways. When the war ended, she raised money to assist former slaves in their transition to freedom and campaigned for women's suffrage.
Though she was born into slavery and suffered unimaginable hardships, Harriet Tubman's life is a story of courage and service to her fellow humans with few parallels in American history.
---